Warehouse Line Marking And Maintenance
WAREHOUSE LINE MARKING AND MAINTENANCE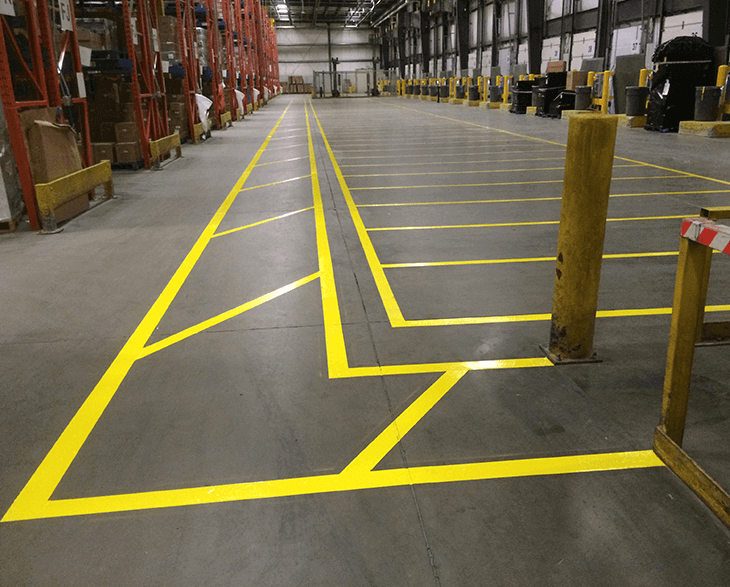 WAREHOUSE FLOOR LINE MARKING SYDNEY, AUSTRALIA
Kings Linemarking is a leading provider of warehouse line marking. Our team of specialists are dedicated to providing the best line marking service in any factory, industrial or parking area. We at Kings Linemarking understand the importance of Line Marking in making your warehouse safer. Therefore, we provide the most efficient floor line marking in Sydney and allied areas. We help you mark and highlight the areas designated to machinery, people and vehicles too. This enables to prevent the property from any sort of potential damage. It helps one safeguard the workspace and avoid collisions and injuries in the warehouse.
WAREHOUSE FLOOR LINE MARKING SYDNEY, AUSTRALIA
Kings Linemarking is the experts when it comes to warehouse Line Marking. We inspect the entire warehouse for maintenance & servicing and identify safe walkway routes and areas of potential accidents or dangers. We make sure to regularly attend our sites to find out if there are any flaws in the system. We ensure that the line marking matches the safety layouts. If there is any need for repainting or making any changes, our team of experts will advise you and can carry out the necessary changes. The years of experience and professional expertise along with our extensive knowledge of the industry makes us one of the best floor line marking companies in Sydney. We do a complete audit of the warehouse and make a list of things that needs to be altered or which may require special attention. Our linemarking services increase the efficiency of your warehouse because clearly marked lines can have a strong impact on productivity as well. The paint used for line marking at Kings Linemarking is made from chlorinated rubber and is long lasting, compared to water-based paints which wear out easily. We provide line marking for pedestrian areas, walkways, truck direction, car direction, forklift floor signs and much more. Kings Linemarking is known for its standard line marking and allied maintenance & services. We provide customised line marking solutions to warehouses and industrial units across Sydney.
We are known for our :
● Experience of over 25 years in this industry :
Our team of professional experts provides the best line marking services. Kings Linemarking provides the best floor line marking service in Sydney.
● Commitment to quality :
At Kings Linemarking, utmost attention is given to the quality of our service and products as well. We strive to provide the best service to our patrons.
● Reasonable pricing :
We use the latest techniques for line marking. We provide our services at very competitive prices.
● Attention to detail :
Our team of experts is highly qualified and scrutinises your warehouse in great detail to provide the best possible line marking service. We map out all areas where the lines should be marked along with directional arrows and wordings. Get in touch with our professional team now to get our services!
To ensure your workplace is the safest and most efficient it can be, clear and visible line marking is essential. We can assist with all the maintenance and servicing to provide protective coatings, anti-slip coatings, safety layouts, hazard makings, walk ways and much more.
Pedestrian Walkways

Pallet Bays

Cross Hatching

Safety Symbols

Warehouse Bollards

Hazard / Exclusion Zones

Convex Mirrors