LINE MARKING / ROADMARKINGS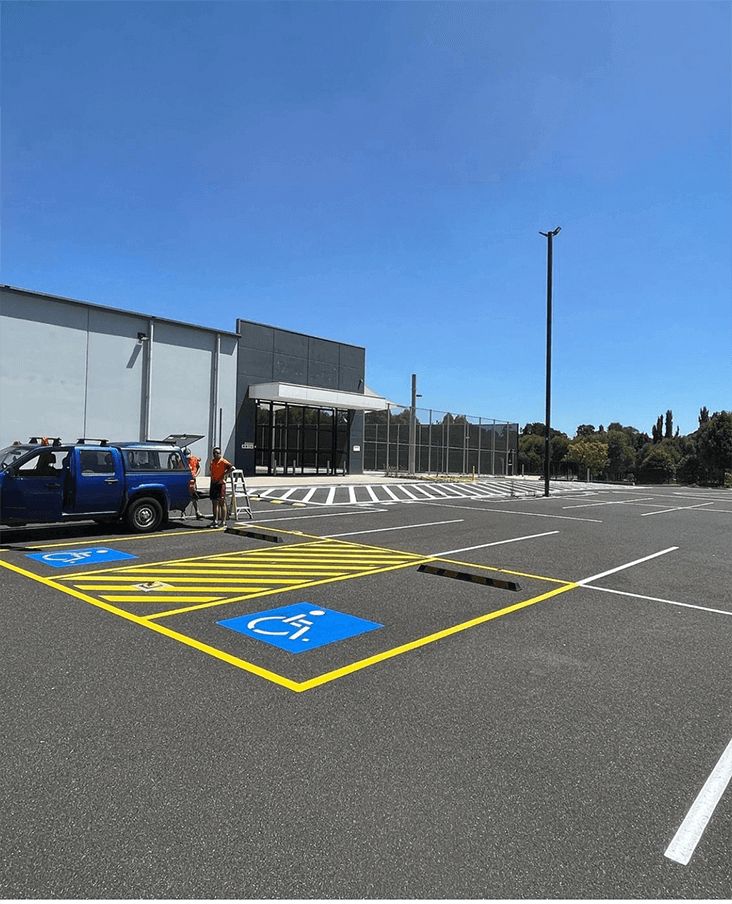 Line Marking Contractors — Road Marking Specialists In Sydney
Every business that has a car parking facility needs proper line marking, or else you will see chaos all around. Similarly, you need road markings around highways, construction areas, warehouses, schools, etc to ensure safety for all users. It's the responsibility of business owners, civil contractors and heads of institutions to ensure these requirements are met within their respective premises. That being said, it's hard to find a contractor that meets all your needs and gives you budget-friendly solutions for line marking services in Sydney.
Thankfully, Kings Industrial and Commercial Linemarking is one such contractor who can deliver the best results at affordable pricing. With more than 16 years in this industry, we have mastered this trade, and that's why people want our services. Be it line marking or road markings that you need, you can always rely on Kings Linemarking for a job exceeding your expectations.
Your Most Reliable Contractors in Sydney — Kings Linemarking
You might wonder why businesses, shop owners and institutions across Sydney trust us with their money when it comes to road markings. Well, we have undertaken all kinds of projects under our banner since we first entered this trade, including car parking lines, warehouse markings, shopping centres, highways and roads, etc. Kings Linemarking has accumulated an abundance of experience across industrial and commercial sectors across the city. So why not try our line marking services and see for yourself why we are rated the best?
Why Is Road Line Marking Necessary?
You might think there is no need to hire a contractor who specialises in road or parking lot demarcation. Many business owners feel exactly like that. However, sooner rather than later, they regret their decision of not going to a professional company like Kings Linemarking for road markings and line markings. Here are the benefits of road demarcation when you hire us in Sydney.
● Visual Appeal:
If you run a business or a shop near a busy, bustling area, the first thing you need is the line marking in your car parking lot. This is the first thing customers will see when they enter your zone, and if you have well-drawn markings there, people will appreciate that. Not only does it help to control the traffic flow in and around your business property, but it also puts the correct first impression on your customers because finding parking spaces is a big problem in many NSW suburbs.
● Safety:
Imagine a road without proper markings of any sort. It won't be easy to navigate the traffic, especially if it's rush hour. Similarly, you need appropriate surface markings in your warehouse facility so that every employee can work safely. Most of the time, warehouse staff members deal with heavy equipment and pallet distribution. Thus, you need a designated pattern of marking inside your warehouse for efficiency and safety.
● Compliance with Australian laws:
There are specific laws and regulations that need to be followed by every business entity or institution regarding car parking. If you fail to meet these Australian standards, you might be penalised for that. Or someone may lodge an official complaint about your business regarding the lack of safety markings to the competent authorities, and you, as a business owner, certainly don't want that. Thus, it's essential to hire a contractor like Kings Linemarking to get the job done as soon as possible. Now that you are well aware of how important it is to demarcate the roads and parking lots, why not call us? Kings Linemarking is always ready to work with new clients for car park line marking and no parking line marking etc across Sydney.
Why Choose Kings Industrial and Commercial Linemarking?
Our crew has all the licences, the latest equipment and the proper training under their belt when it comes to road markings and work as per car park line marking standards.
Leave the task of preparing the surfaces before line marking to us.
We use the finest paint and coating material for every project.
You can also expect us to supply and install signage around your business premise.
Kings Linemarking also offers existing line removal services in Sydney.
Call us now for a free quote!