WAREHOUSE SURFACE SEALING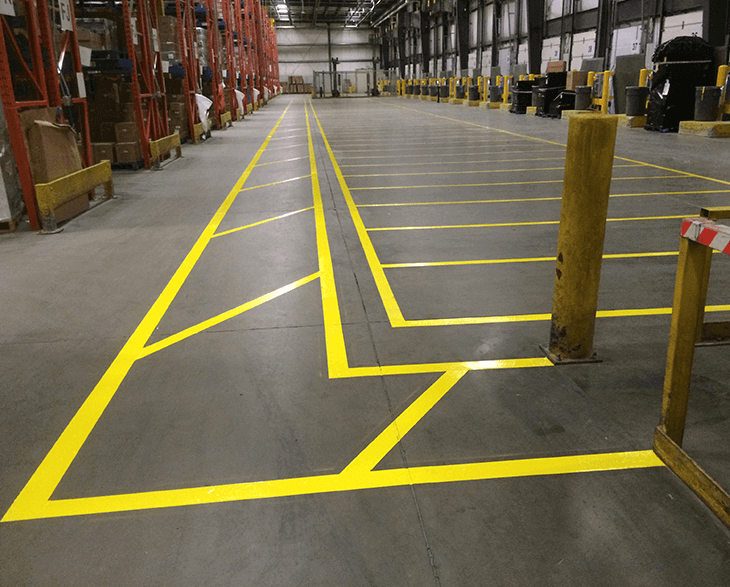 Concrete Sealing Services Sydney
Kings Linemarking is a leading industry specialist in providing line marking and concrete sealing services in Sydney. Our team of experts are dedicated to providing the most advanced and optimum services to our clients and patrons. Whether it is line marking, car park wheel stops or concrete sealing. We make sure to understand the requirements of our clients and provide the best suitable solutions for them. Our constant endeavour to update ourselves and use the latest techniques and technology makes us the most preferred service provider in Sydney.
WAREHOUSE SURFACE SEALING
At Kings Linemarking, utmost attention is given to the quality of products. We use optimum quality products for all our services. Concrete sealing is one of the vital elements of an industrial unit or warehouse. The concrete should be maintained regularly to ensure greater productivity and avoid potential damage. Kings Linemarking offers sweeping, scrubbing, surface cleaning and other services in Sydney. We are the experts in industrial concrete sealing.
● Mechanical Sweeping and Scrubbing :
If you run a business or a shop near a busy, bustling area, the first thing you need is the line marking in your car parking lot. This is the first thing customers will see when they enter your zone, and if you have well-drawn markings there, people will appreciate that. Not only does it help to control the traffic flow in and around your business property, but it also puts the correct first impression on your customers because finding parking spaces is a big problem in many NSW suburbs.
● Shot Blasting :
In this method, the old coating is removed with pellet shots and blasting. The surface is etched with this technique and looks new. Shot blasting is cost effective and does not use harmful chemicals. It is one of the most time-saving methods of cleaning the surface and stripping at the same time. It makes the surface prepared for line marking in the most efficient way. It is popularly used by coating manufacturers due to its flexibility and for enhancing the life of the floor.
● Grinding :
Grinding helps in concrete sealing where the area is relatively small and it is difficult to reach by other methods like mechanical sweeping and shot blasting. Grinding makes the surface prepared optimally without consuming much time. It is best suitable for those areas where only a minor scuff is required to get the surface ready for the coating. Kings Linemarking is the leader in this industry. We provide the most efficient and professional concrete sealing services in Sydney. Our team of experts will inspect your warehouse and suggest the best possible method for concrete sealing. We have experience of over 16 years in this industry. We provide efficient concrete sealing and line marking services in Sydney and allied areas. We also provide comprehensive packages that include everything right from sweeping, scrubbing, cleaning and line marking as well. Kings Linemarking combines skilled workmanship and highest quality products to provide the best possible services to our esteemed clients and patrons. Contact our expert team now to get our concrete sealing service at your premises. We will be delighted to serve you!